Asphalt Seal Coating
Serving Airdrie, Calgary and Okotoks
Alberta's constantly changing weather is tough on asphalt causing cracks and potholes. Protect this from happening by applying a fresh seal coating to your asphalt.
Protect Your Asphalt With A Rubberized Seal Coating
Sealcoating protects your asphalt investment from deterioration and is key to keeping an attractive looking parking lot or driveway. It's the best and most cost-efficient way to avoid expensive repairs due to water damage, UV damage, and pavement failures.
Rubberized asphalt sealing offers asphalt seal coating in Alberta to commercial and residential properties. Our professional work crews are highly experienced and offer quick job turn-around to minimize interruption of your business or home.
We use only high performance, commercial-grade materials on each job. Our professional spray equipment is built to handle materials of all different specifications for both commercial and residential asphalt seal coating jobs.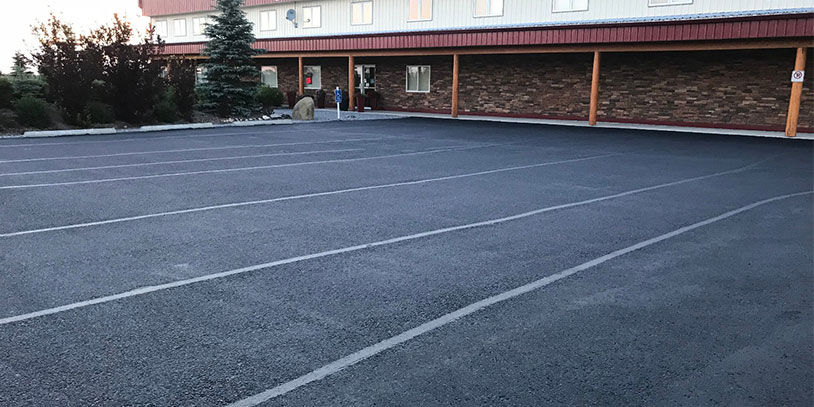 Asphalt Sealcoating Benefits
The Sooner The Seal Is Applied The Cheaper The Repair
Asphalt seal coating prevents the damaging effects of oxidation and water penetration preventing new cracks from forming and stopping the creation of potholes in their tracks.
Restore Your Asphalt To It's Original Great Look
Sealcoating restores original black color to asphalt & greatly enhances the overall appearance of property stabilizing or increasing property value.
Sealcoating Offers Built-in Traction
And more traction means safer driving on your driveway or in your parking lot.
Protect Against Gas, Oil And Other Containments
Sealcoating resists the highly damaging effects of gas, oil seepage & all other road chemicals including alkalis and winter salt. Keeping containments out of your asphalt will help prevent new cracks from forming.
To get a free estimate or advice, please reach out so we can discuss your project.