Asphalt Seal Coating
Serving Red Deer, Camrose, Stettler
Alberta's constantly changing climate is tough on pavement causing cracks and pothole damage. To prevent this from happening, apply a fresh seal coat to your asphalt. The benefits of a fresh sealcoating are many: helps protect the road surface from moisture, maintains the roads integrity, and will ultimately extend the life of your existing pavement.
The best way to ensure that you get the most out of your new or existing asphalt driveway is to have it sealed properly by an experienced professional.
Don't Get Wrecked Get Rubberized
Repair And Protect Your Pavement With A Fresh Sealcoating
Sealing your asphalt driveway or parking lot keeps its appearance intact and helps keep it safe for years to come. It's by far the best and most cost effective way to prevent expensive repairs due to water leaks, UV damage, and road cracks.
Rubberized asphalt sealing provides asphalt seal coatings for commercial and residential properties in Red Deer, Camrose, Stettler and around Central Alberta. We employ skilled workers who are well versed in their craft and provide fast turnaround times so that we can minimize interruptions to your life.
We use only high quality, commercial grade products on every project. Our professional spray equipment is built to handle materials of all different specifications for both commercial and residential asphalt seal coating jobs.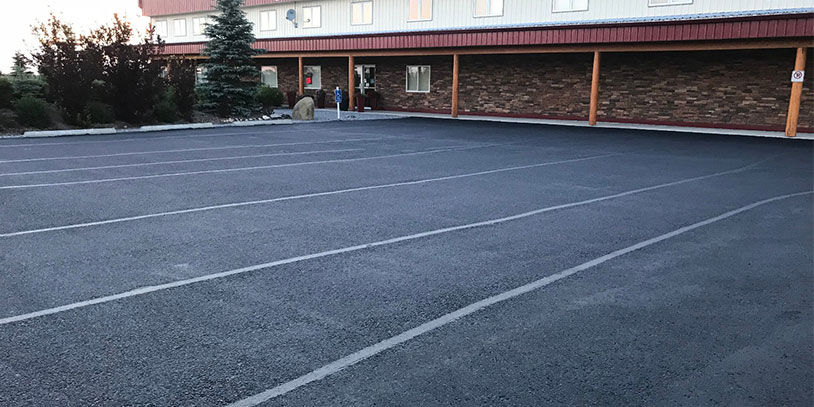 Get Your Free Asphalt Coating Or Asphalt Repair Quote
Asphalt Sealcoating Benefits
Helps Prevent Expensive Repairs
Asphalt seal coatings prevent the formation of new cracks and stop existing ones from growing larger. They also prevent the creation of pothole-like holes in roads.
A Fresh Sealcoating Fixes & Makes It Look New Again
Blacktop sealcoating restore the original black color to asphalt and greatly enhance its overall appearance. They also increase the property's value.
Sealcoating Improves Traction On Asphalt
Applying a fresh sealcoating can help with traction, making your road or driveway safer. In addition, it will make the surface more durable and last longer.
Protect Against Gas, Oil And Other Containments
It protects against the harmful effects of gas, oil leakage, and all other types of road chemicals, including alkalis and winter salts. Preventing new cracks from forming by keeping asphalt containments out of your driveway will help keep them from spreading.
How Do Asphalt Sealcoatings Help And Repair Pavement?
Sealcoating is a common type of road resurfacing done across Central Alberta. It involves applying a special mixture to the surface of the road so that it protects the road base from further damage. It is a kind of protective coating, but instead of protecting against rain, it protects against road rash. If you apply sealcoating over existing asphalt, then it will extend the life of the road and save you money because it seals out water. It also offers a slip-resistant, anti-reflective surface for rainy days, and because it hardens the road surface, it makes it easier to drive on gravel roads.
So don't let your asphalt get wrecked, get protected with an asphalt sealcoating by Rubberized!
Get Your Free Asphalt Coating Or Asphalt Repair Quote