Flat Roofing & Asphalt Repair Calgary – Don't Let Your Property Get Wrecked, Get Rubberized
Welcome to Rubberized Ltd, your go-to company in Calgary specializing in rubberized flat roofing, seal coating, and asphalt repair for over 12 years. Don't let your property succumb to damage – get it rubberized, and enjoy enhanced protection and longevity for your properties across Alberta.
Rubberized Ltd: We're More Than Just a Service, We're Your Property's Lifesaver
Flat Roof Repair & Installation
Experience superior weather resistance and durability with our expertly installed rubberized flat roofs.
Asphalt Repair & Crack Sealing
Proactively extend the lifespan of your asphalt surfaces with our effective repair and hot rubberized sealant.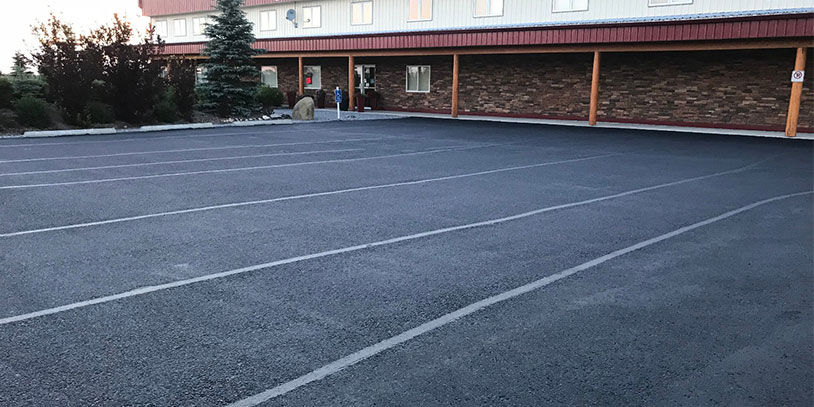 Asphalt & Driveway Seal Coating
Protect your asphalt investment from weather deterioration and enhance its aesthetics with our quality seal coating service.
Grain Bin & Quonset Sealant
Safeguard your grain bins and Quonset huts with our highly adaptable and protective sealant.
Introducing George Smith The Man Safeguarding Calgary's Properties
Meet George Smith, the driving force behind Rubberized Ltd. With a rich legacy of three generations in the industry and over 12 years of personal experience, George operates with a simple philosophy – treat each job as if it were his own property. His laid-back demeanor and diligent work ethic ensure high-quality, reliable service for all clients. As a proud family man, George's approach extends beyond business, creating a company that values relationships and client satisfaction above all. Despite any hurdles, his commitment to excellence is unwavering, making Rubberized Ltd a trusted choice in Calgary.
Don't Let Your Property Get Wrecked Get Rubberizedl
Learn More About All Our Services
Grain Bin & Quonset Sealant
Stick to nearly any materials
Save money by sealing out or in moisture
Protects product by resisting insects and rodents
Seals air leaks in grain dryers saving time, fuel, and product freshness
Expand and contract far greater than any other sealing products available
Asphalt Seal Coating/Driveway Sealer
Sealcoating protects your asphalt investment from deterioration and is key to keeping an attractive looking parking lot or driveway. It's the best and most cost-efficient way to avoid expensive repairs due to water damage, UV damage, and pavement failures. This is also useful for sealing your driveway, extending it's life and saving you money on replacement.
Asphalt Repair & Crack Sealing
The best way to prolong the life of your asphalt is by fixing it fast. As soon as you start to notice cracks or crumbling in your asphalt, that means it is time to get it repaired. A hot rubberized sealant will keep water and other elements out, thus prolonging it's life.
We are a flat roofing company that does installation, repairs, and maintenance. The rubber flat roofs we install will be especially resistant to Calgary's severe weather, as well as water, roots, and mold. We service the following cities Red Deer, Edmonton, Camrose, Calgary.
Our flat roof was leaking and Rubberized was able to quicklly get a new rubberized seal applied. I think we avoided a lot of damage because of it.

KAVIL LANDON
George and his crew saved us by fixing a massive crack in our flat roof. It was starting to leak and cause a lot of damage

BARBARAY MCLEAN
Why Calgary Trusts Rubberized Ltd for Flat Roofing & Asphalt Repair & Seal Coating
We're Experienced
For over 12 years, Rubberized Ltd has been the trusted protector of flat roofs, asphalt, and driveways across Calgary. We've faced and conquered an array of unique damage situations, rooted out mold, and mastered the art of applying our special rubberized seals. Our mission? To ensure your properties are safeguarded against the elements.
A GOOD RUBBERIZED SEAL CAN EXTEND THE LIFE OF YOUR PROPERTY FOR DECADES
We Warranty our Work
While the landscape of businesses continually evolves with new entrants and exits, Rubberized Ltd stands as a testament to resilience and reliability. Our longevity is more than a badge of honor – it's a promise to our customers that we will be here to honor our commitments. With our rubberized seals designed to last for over two decades, you can rest assured that we'll be at your service when you need us.
WE BACK OUR WORK AND MAKE SURE THAT YOU ARE FULLY SATISFIED WITH THE SERVICE WE OFFER.
We Know Calgary's Weather
Calgary's weather is notorious for its toll on asphalt and flat roofs. Sunshine one day, snowfall the next, followed by icy chinook winds – a potent mix that can wreak havoc on your property. That's why at Rubberized Ltd, we've honed our techniques to apply rubber seals and seal coating effectively. Our goal is to mitigate any weathering your flat roof or asphalt may face, preserving the longevity and integrity of your property.
MORE THAN JUST A SERVICE, WE ALSO PROVIDE OUR CUSTOMERS WITH AN EDUCATION.
Rubberized Insights & News
Asphalt is often used for roads and even your driveway, the challenge is that in Alberta the constantly changing weather causes extra wear and tear. Every time cracks form in your asphalt it creates an opportunity for water to penetrate further wearing away your...
read more
Don't let Calgary's unpredictable weather jeopardize the longevity of your property. With Rubberized Ltd's proven expertise in flat roofing, asphalt repair, and seal coating, you can ensure your property stands strong against the elements. Contact us today and experience the peace of mind that comes with choosing Calgary's trusted protectors for over 12 years.
Serving Region
Serving Airdrie, Calgary, Okotoks and Beyond
Visit Us
70 Shawville Blvd SE #240, Calgary, AB T2Y 2Z3